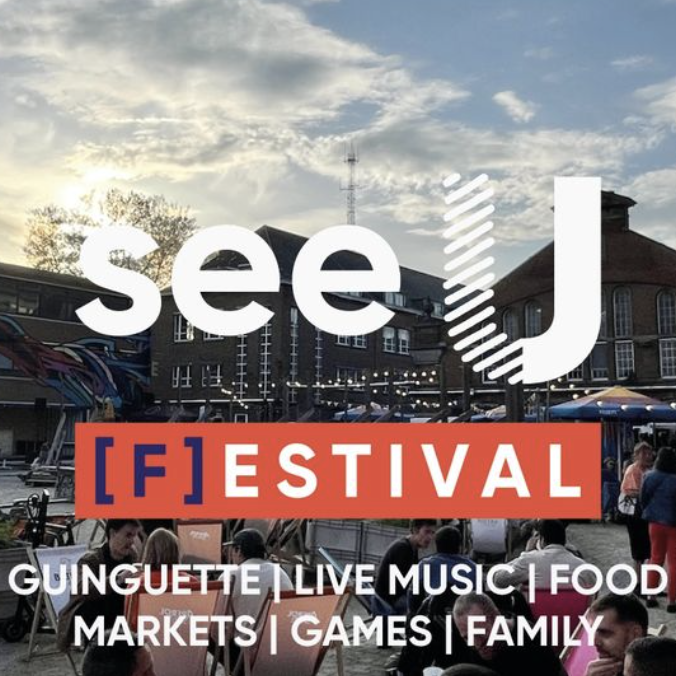 SEE U (F)ESTIVAL / SUMMER 2022
𝙂𝙪𝙞𝙣𝙜𝙪𝙚𝙩𝙩𝙚 | 𝙈𝙪𝙨𝙞𝙘 | 𝘼𝙥𝙚𝙧𝙤 | 𝙁𝙤𝙤𝙙 | 𝙊𝙥𝙚𝙣 𝘼𝙞𝙧 𝘾𝙞𝙣𝙚𝙢𝙖 | 𝙎𝙥𝙤𝙧𝙩 | 𝙇𝙤𝙘𝙖𝙡 | 𝘿𝙧𝙞𝙣𝙠𝙨 | 𝙆𝙞𝙙𝙨 𝙁𝙧𝙞𝙚𝙣𝙙𝙡𝙮 
 𝙒𝙚𝙙𝙣𝙚𝙨𝙙𝙖𝙮 𝙩𝙤 𝙎𝙪𝙣𝙙𝙖𝙮
On Wednesday 15 June, we start the summer season with a special MUSIC DAY week! 
On Wednesday we open with a concert in collaboration with Focus/Vif magazine.
And for the rest of the week, we bring you a new phenomenon that a whole generation of young people are busy embracing, namely the great return of the vinyl record and record shops.
On Thursday, Friday and Saturday, the best of them will come and make you discover sounds coming from their record shops and not available on the streaming platforms! 
Het See U (F)Estival 2022 begint dit jaar op woensdag 15 juni met een speciale week FÊTE DE LA MUSIQUE!
𝗣𝗥𝗢𝗚𝗥𝗔𝗠 𝗢𝗣𝗘𝗡𝗜𝗡𝗚 𝗪𝗘𝗘𝗞:
 Wednesday 16:00 - 22:00 
 Live concert Focus Music Box: BEESAU & PRINCE LAO DJ SET 
 https://cutt.ly/DJJ4s5w
 Thursday 16:00 - 22:00 
 Out of office with Hospice Records Shop
 Friday 16:00 - 22:00 
 See U invites: Sono Ventura Records Shop
 Saturday 15:00 - 22:00 
 Meet U locals: Quartier en Feest, barbecue, ...
15:00 - 20:00 
 Creative kids workshops 
 https://cutt.ly/5JJ89jD
17:30 - 22:00 
 Rick Shiver
 Sunday 12:00 - 22:00 
 Family chill and workshops for children!
12:00 - 20:00 BOUNCY CASTLE 

14:00 - 18:00 Make it Sound Audio Café 
 https://cutt.ly/fJKJqKL
𝗙𝗢𝗢𝗗𝗧𝗥𝗨𝗖𝗞S
 Wednesday 
 Pistola, Chickpea, Eaters

 Thursday 
 Caravan Kitchen, Pois Chiche, Le Buron

 Friday 
 Soul Kitchen, Peperoni, Rasoi

 Saturday 
El Merken, Amazing Street Food, Pizza by Pain dans la gueule

 Sunday 
 Pistola, Le Buron, Pizza by Pain dans la gueule
𝗔𝗖𝗖𝗘𝗦𝗦
Av. de la Couronne 227 Kroonlaan
Brussels 1050
Bus: 95 - N08
Tram: 7 and 25
Train: Etterbeek Station