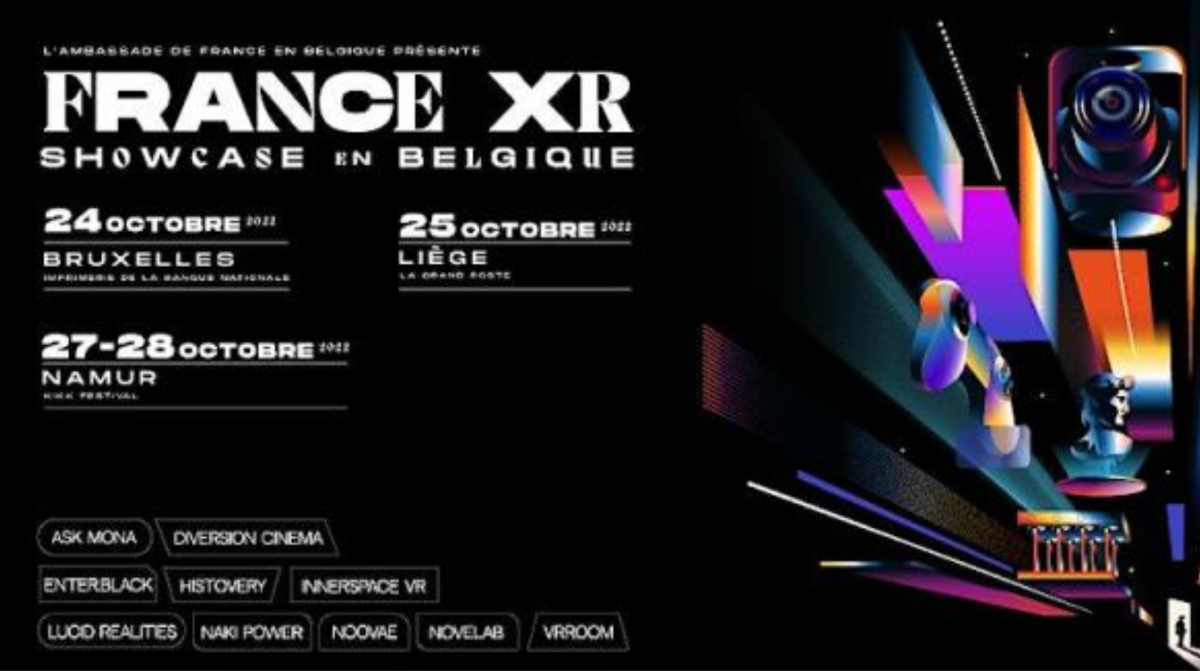 "France XR - Showcase in Belgium" will be held on October 24, 25, 27 & 28!
This event will allow Belgian professionals from the #culture, #heritage,#audiovisual and #tourism sectors to discover the latest #innovations in immersive #AR/VR/XR experiences and #digital mediation from French companies that have won awards at numerous international festivals.
Three central themes:
➡ expanding audiences through innovative and attractive offerings,
➡ renewing the visitor experience via emerging technologies,
➡ collaboration between producers, creative teams and cultural, tourism or heritage institutions.
Come and meet Innerspace VRNovelabNoovaeLucidRealities studioAskMonaHistoveryENTER.blackVRrOOm, Naki Power and Diversion cinema
📅 #program:
- Monday, October 24 at the Printing Office of the National Bank of Brussels
- Tuesday, October 25 at La Grand Poste in Liege
- Thursday, October 27 and Friday, October 28 at the "Pavillon France" of the KIKK Festival in Namur (upon accreditation) https://lnkd.in/e7eKaPts
Contact Margaux Berrettoni by email(margaux.berrettoni@diplomatie.gouv.fr) for more information and to register*.
A project led by the French Embassy in Belgium, in partnership with theFrench Institute, La Grand Poste, pali pali, the KIKK.
Partners of our operation at the KIKK Festival, within the framework of the French Pavilion : Business France, Ministry of Culture , Minalogic, Région Auvergne-Rhône-Alpes, 104factoryOfficefranco-québécois pour la jeunesse (OFQJ).
Thanks to Corentin VIGNERON and paul perretti from Minuit Studio for this visual identity.
*Event reserved for Belgian professionals in the fields of culture, heritage, audiovisual and tourism.